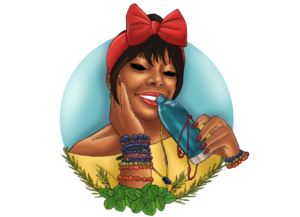 Whether you're new to starting your health journey, trying to maintain a healthy lifestyle or incorporate ways to build and stabilize your immune system during this critical time, in one of the worse pandemics the world has seen, I'm sure we have something for you. With several all natural juice blends, hand crafted by yours truly, let's find the perfect combination for you. 
Herbal Smoke Blend
I'm bringing to you a trio of new products in the form of smokable herbal blends ; Blues be gone, pain away, and breathe again . All three blends contain a base herb, a supportive herb to increase function and capability, and a flavoring herb for a satisfying taste.
Sour Sop/Sea Moss Lemonade
Soursop, also known as graviola, is the fruit of Annona muricata, a type of tree native to tropical regions of the Americas. This prickly green fruit has a creamy texture and a strong flavor that is often compared to pineapple or strawberry.
Sea Moss
Herbal Infused Sea Moss is regular Sea Moss infused with beneficial herbs. When put together the body is provided with an abundance of defensive components and provides an intense cell reinforcement and mitigating impacts.
Ginger Shots
New examinations are demonstrating significant medical advantages of ginger. It never stop to astound me that GOD furnishes for our wellbeing with exceptional plants to mend and feed our bodies. The accompanying data on ginger will give you one more common non-harmful spice which will enable your body to accomplish and keep up ideal wellbeing.
I have always been up on building my immune system but when I found out the benefits of Sea Moss I added it to my list. Since I've been taking it I have energy out of no where. I my bowls are now regular and I have sickle cell trait which causes me to have anemia I can tell my count is good because I'm no longer feeling tired. I will definitely continue to have Sea Moss as one of my immune builders
About two weeks ago I learned that I had inflammation in my thyroid gland. I started taking this sea moss and a week later the swollen has went down and there is no pain.
I added sea moss gel to my diet in my morning smoothies to help boost my immune system. I have noticed an increase In energy and I will continue to use sea moss gel.
this ginger shot makes you do the harlem shake, but its sooooo good for you and it really works!!!
I have been taking this product for months. Before I start my day, I always have my shot. It gives me the energy to work long hours. I also take it because it's good for the immune system. Wish I had this product when I was standing mid watches while in the Navy
Sis put me onto this wonderful stuff last year and I've been buying since than my first day taking the ginger shot i didn't have a headache and if you know me you know i wake up with headaches sometimes i couldn't even get out the bed or function because of them i drive far to get her products i love them 🥰
I have been a Royal Beads customer since last year. I have enjoyed and felt the results of your products. I have purchased the soursop lemonade, ginger juice, sea moss gel.
Her overall business process and products are top notch!! I think it speaks for itself. The government should supply families healthy alternatives instead of the vaccine. It's convenient for me being a single mother on the go !! We both take it!!
I'm pretty sure I caught COVID to start the new year (my symptoms were a low grade fever & loss of taste & smell). I had been procrastinating on ordering the Ginger Shots but I finally did. And I KNOW it's what kicked Rona to the curb! I'm a forever customer now!
Love Our Products? Leave A Review!
The statements made regarding these products have not been evaluated by the Food and Drug Administration. The efficacy of these products has not been confirmed by FDA-approve research. These products are not intended to diagnose, treat, cure or prevent any disease. All information presented here is not meant as a substitute for or alternative to information from health care practitioners. Please consult your healthcare professional about interactions or other possible complications before using an product. The Federal Food, Drug, and Cosmetic Act requires this notice.